Exports in 2018-19 set to finally scale 2013-14 level
NEW DELHI: Exports are appear on course to finally cross the 2013-14 level during the current financial year despite the sluggishness seen in recent months.
Data released by the commerce department on Friday showed that exports inched up by 2.5% to $26.7 billion in February as several key sectors, such as engineering goods, chemicals, rice and cotton yarn and fabrics reported tepid growth, while oil product exports fell by 7.7%.
And, with gold, electronics and crude imports shrinking in February, the overall import bill fell by over 5.4% to $36.3 billion, narrowing the trade deficit to $9.6 billion, compared to $12.3 billion in February last year. In fact, during February, 12 of the 30 closely watched segments showed a decline in the value of shipments.
During April-February, India's exports are estimated to be 8.8% higher at $298.5 billion, while imports are up a shade under 10% at $464 billion, latest data released by the commerce department showed.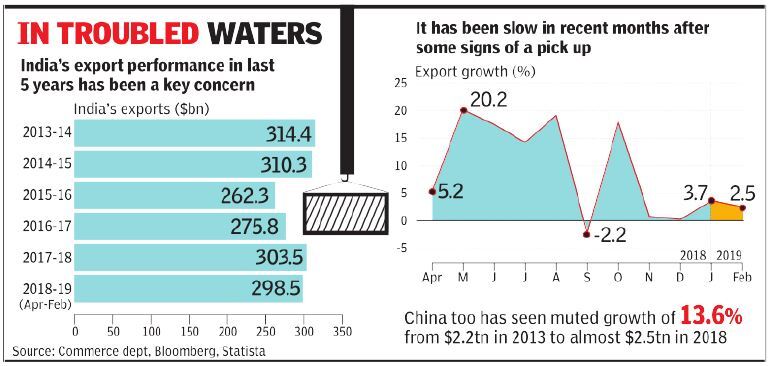 Policy makers and trade experts are keeping close tabs on the export numbers, as the Narendra Modi government has so far fallen short of scaling the level of exports that it had inherited.

Government officials blame it on the global export slowdown as well as growing protectionism across the world, especially in the US, which had been an advocate of free trade.
With March expected to see a year-end rush of shipments, the Modi administration expects to close the year with exports of around $330 billion, helping it scale the record $314 billion reached during UPA's last year in office. Since then it was a downhill curve with an upward trend seen in the last three years.
WTO warned of a further slowdown in global trade as a quarterly outlook indicator showed the weakest reading since March 2010. But trade experts and exporters said the government needs to do more to rev up exports, which are also seen to be crucial to boosting overall manufacturing activity.
"Despite the global problems, there is a lot of scope for Indian exports," said Ganesh Kumar Gupta, who leads exporters' lobby group Fieo. He identified slow tax refunds, lack of trade finance as well as low support for promoting exports as areas that need attention.